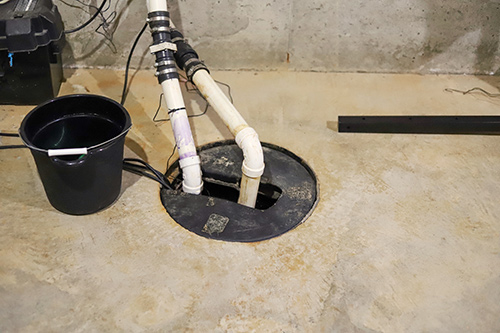 Basement flooding damages more than your wallet and home drywall. It ruins irreplaceable family treasures. Sadly, most basement flooding is entirely preventable. Don't let this happen to you.
A flooded basement is a homeowner's nightmare. With a home basement sump pump installation, your home, wallet, and treasures are protected from heavy rain, plumbing malfunction, and naturally rising water tables. A trusted professional plumbing firm (like ours) can make all the difference in you and your family's life.
Poor sump pump installation strategies can leave you in a flooded mess. Not only is it necessary to secure professional installation, it is smart to secure regular inspections and maintenance of your sump pumps that include testing the power supply, checking for blockages, inspecting hoses, and cleaning the pump. Doing it regularly will keep your sump pump running properly and prevent unwanted excess water from intruding into your home. Most sump pumps fail because of either a failed pump, a pump that will not handle high volumes of water or power failure. With sump pumps, these are devices placed in a crawl space or basement designed to pump out excess water. Water flows into the sump pit through drains, keeping the crawl space dry and preventing flooding. And the worst scenario is if the sump pump is filled with mud, and you guessed it, the sump pump is not functioning. There are many obstructions such that it is the best way to test the sump pump if it is operational. No matter what the obstructions we do our best to make it work.
Checking your sump pump regularly will save you time, money, and problems down the line. Ensure that your property stays dry. Do not wait for a disaster. Contact RSL and we assure you we will have protection from all the pump problems you encounter.
Radon Systems LLC is one of the few certified radon companies that also install submersible pump systems. Contact Radon Systems LLC today!