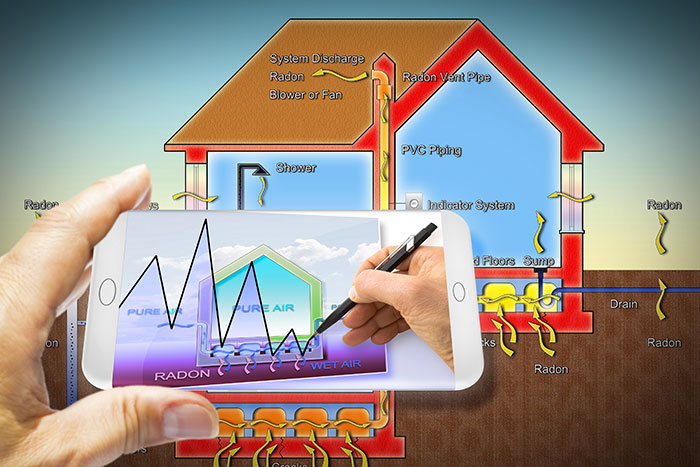 Do you know whether or not your future home presents a serious, invisible, and odorless health risk? We're talking about naturally produced radon that far too many home buyers overlook during the home inspection. If your future home currently introduces radon gas into the home and that fact goes undetected, you're making a bad investment into you and your family's health. Demand a professional radon inspection as part of your closing process.
If you are buying or selling a home, it is good practice to test the home for Radon gas. Certifying that your home for sale is radon-free is a selling point. Certifying that the home you are buying is radon-free is one worry that you can set aside. Let's talk about radon gas and why professional inspection (and irradiation if need be) is so important.
Radon is a radioactive gas is formed when soil, rocks and water break down beneath your home and enter through cracks and holes in your foundation at any time. It typically moves up through the ground to the air above and into your home through cracks and other holes in the foundation. It is the reason why it is important to test once per year. It is unavoidable to happen anytime and anywhere in your home. Your home traps radon inside where it will build up and become potentially harmful. If there are traces of radon found in your home, professional radon control will install solutions designed to redirect radon out and away from your home. Do not take risk of long-term exposure to radon because it is harmful thereby this is something you need to take seriously. There is no home that is safe from radon. Every home has some level of radon. It is vital that homeowners must have their homes tested.
There are homes that had slightly elevated levels but being extra cautious, they have decided to install a radon mitigation system to alleviate any future worries. There are radon-resistant techniques that are inexpensively included in the contract for your renovation. Major renovations will change the level of radon in any home. Test again after the work is completed. Peace of mind is priceless.
If you need to test your home for radon, contact Radon Systems LLC.