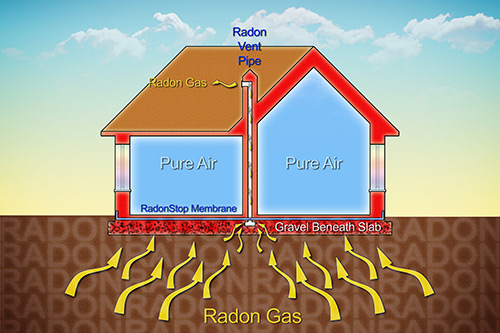 Testing for radon is a home safety exercise that you should perform on a recurring basis. Since radon is an odorless, colorless radioactive gas, it can appear at any time and without notice. It enters your home from the earth through the smallest of cracks in the foundation. It can cause health issues with chronic exposure. It is important to get your home tested. It is an easy and inexpensive test and also an easy fix if your home has radon.
There are several proven methods that will reduce radon in your home. The most used procedure is using a vent pipe system and fan which pulls radon from beneath the house and vents it to the outside. After a radon mitigation system has been installed, a post-mitigation test for radon will be performed within 30 days of installation. Your radon fan should never be turned off. It will constantly be running in your home to ensure that the system is working properly. The second way of fixing your home from radon is draining tile suction. The pipe penetrates into the drain tile and vents the soil gases outside. Its covers are placed on the sump baskets. And lastly, the sub-membrane wherein it is used in crawl spaces, a plastic sheet covers exposed dirt on the floor, extends up onto the wall and is sealed. A radon pipe penetrates the plastic sheeting, pulls the soil gas from the crawl space and vents it outside. This requires a radon mitigation professional to do the process.
There are other features of a radon mitigation system that will be complied with like the labeling that will avoid accidental changes to the system which will disrupt its function. In addition, a post-mitigation radon test will be done. An operating and maintenance instructions and copies of any warranties will be provided by the radon professionals. Lastly, radon mitigation system installations require electrical work to power the radon fan which requires an electrical permit. Request a free inspection of your radon mitigation system now.
For more tips on Radon Mitigation System, contact Radon Systems LLC.