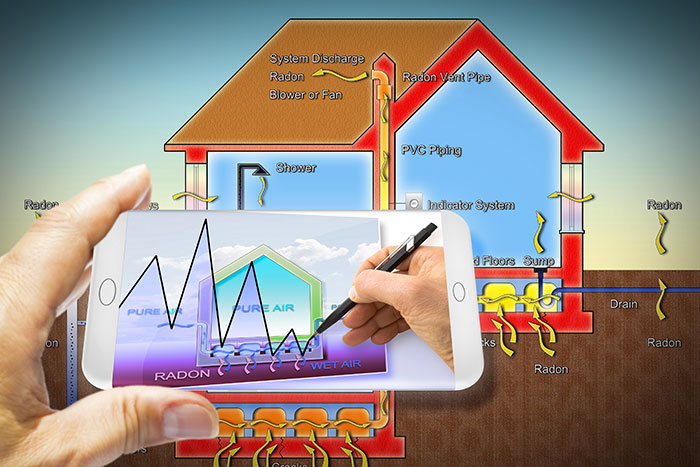 Fixing a home for radon level is a challenging job. The first thing you want to ensure is that the radon measurement provider's test will be accurate. Here at Radon Systems LLC, we are an experienced and BBB "A+-rated" radon testing and mitigation firm. Our commitment to you is zero-radon gas level in the house.
There is only one safe level of radon in every home…zero. Since radon is radioactive and the less of it you breathe, the lower your chances are of developing lung cancer. Always remember that there are trace amounts of radon gas in the outside air that are absolute zero. And any properly done radon mitigation systems services will reduce radon gas to the equivalent of outdoor air which is usually very close to zero. The EPA recommends that you undergo a test for radon gas every two years. It is very important to test more than once.
Radon levels will fluctuate from time-to-time. It is highly recommended to test for radon gas in various seasons throughout the year because the weather will have an influence on the results. You will never expect that you will be safe because you were tested during a lower period, but your radon levels are quite high during other periods. And there is no assurance that even if you have a radon mitigation system in your home, never assume that it is working properly based upon the one test that you did right after the system was installed. It is advisable to re-test any home with or without a radon mitigation system at least every two years.
Ultimately, the best radon mitigation system is a system that will reduce the radon levels as close to zero as possible based upon the budget. Using the best radon fans which are determined by radon professionals will base upon the density of the soil under the foundation and the characteristics of the footprint of the home. Radon mitigation services are a serious business. It takes experience for a radon contractor to be able to consistently install radon systems that reduce radon levels.
For more tips on Radon Mitigation systems, contact Radon Systems LLC.