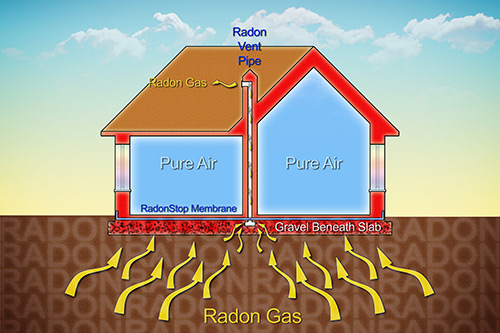 Radon can seep into any home, old or new, basement or no basement. It is important to protect your home and family by seeking professional radon testing services annually. Since Radon is directly linked to lung cancer, you simply must take the threat seriously. Testing is the only way to confirm (or deny) you and your family's susceptibility to this dangerous element.
Radon is a colorless and odorless naturally occurring radioactive gas that seeps from soil into homes through cracks and other openings of the foundation or walls in contact with the soil. It will enter your home through cracks in your foundation, contaminated soil, and even your home's water supply. Radon is in the ground naturally. That is why it is important to test for radon once per year.
There are many reasons why radon may not be present in your home today but might tomorrow. First, your home's foundation shifts, and micro-cracks can emerge giving all the space that radon needs to enter your home. Also, the earth does not establish fixed "radon access points" that never change. Mother earth evolves and will establish radon sources tomorrow in places where they don't exist today. The only way to verify that you are now on a radon deliver schedule is to test for it. If you indeed are subject to radon's presence, we'll be glad to discuss our proven radon mitigation service that we've delivered to Sutton homeowners like you for years now.
Radon testing is not a subject to procrastinate. Let's get going. Contact Radon Systems LLC.